Get your own Pledge Rankings Widget
Now, you can show real-time statistics on the top 10 countries according to the number of pledges for the Download Day 2008 in your own website/blog! How come? Because the Pledge Counter Widget is born!
While skimming around Bugzilla, I noticed bug 436557, which proposed to create a blog widget to show the top 10 countries based on pledge rankings for the Download Day 2008. In that bug, Ryan Doherty (who is the creator of the Download Day project's website) had suggested a blog widget showing the number of pledges for the top 10 countries. I said to myself, let's do it!
The Pledge Counter Widget is a customizable JavaScript-based widget which can be embedded in your own blog/website. You can see a sample of it at the left hand of this very page. Most aspects of this widget are customizable (such as, how many countries to show, which columns to include in the table, the text displayed on the widget, its visual style which allows integration with your website's theme), and can be customized online using the web-based customization interface (which includes a quick preview option to see what the widget would look like with your own customizations). This widget is hosted on my own website, so you don't have to upload a single file to your web server, all you need to do is paste its code into your pages. Enough talking, you should try it now!
Oh, and here are two screenshots of the default look and feel of the widget, and one sample customization of it.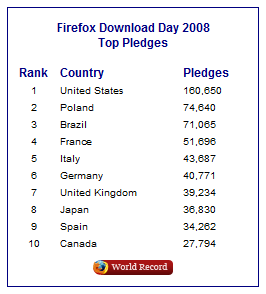 Download Day 2008 Widget – Default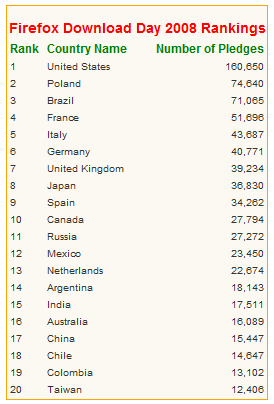 Download Day 2008 Widget – Customized